Outdoor Furnaces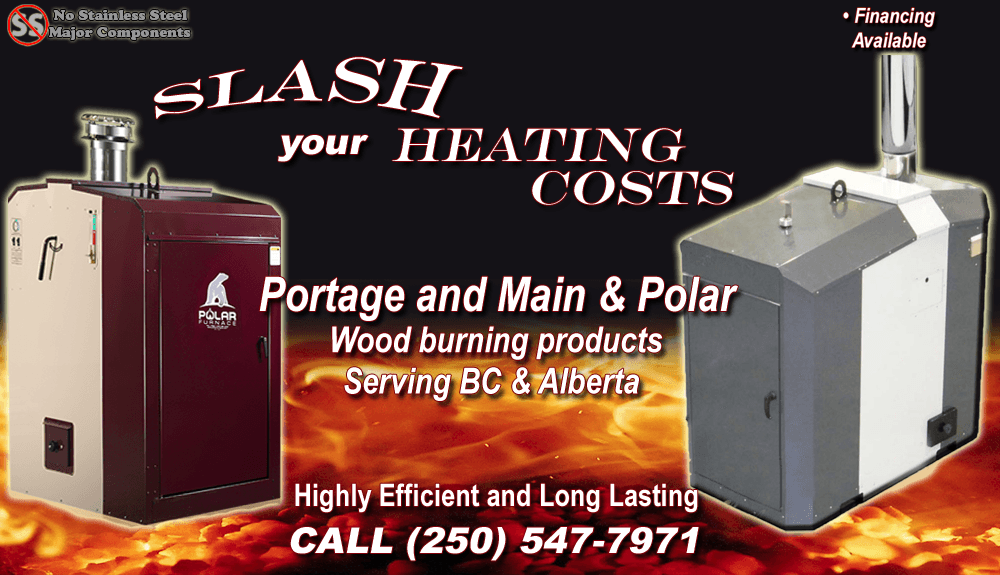 Outdoor Wood Boiler and Water Furnace Sales in BC & Alberta
• Cut your heating costs • efficient and reliable heating • safe, clean and environmentally friendly
HEAT VIRTUALLY EVERYTHING WITH An OUTDOOR WOOD BOILER (ALSO KNOWN AS A WATER FURNACE)...
Residential Homes, Small Industrial Sites, Commercial Buildings, Wood Kilns, Lodges, Cabins, Outbuildings, Greenhouses, Swimming Pools, Hot Tubs, Domestic Hot Water, Dry Hay & Grain and much more.
PORTAGE AND MAIN – RATED BY MANY AS "SIMPLY THE BEST"
Unsurpassed reputation for Quality, Efficiency, Longevity and Reliability.

Established in 1973, Manufactured in Manitoba Canada

Refractory Brick Lined Firepot - (Ultimizer) Improved overall boiler efficiency (burning 1/3 to 1/2 less wood).

Huge 180o return Heat Exchanger – (Ultimizer) Maximizes the transfer of heat from the fire to the water.

Dual Air Injection (Ultimizer Series) introduces air both above and below the fire supporting cleaner emissions, reduced maintenance and a more efficient burn.

Unique Double Sided Welding - promotes boiler longevity reducing the risk of leaks caused by weld failures by an additional 50%.

Dual Heat Exchanger system both Vertical and Horizontal second pass (EGR Series)
Lifetime Limited Warranty
POlar – G-Class

(

2 Models available

)
Building a reputation for Quality, Efficiency, Longevity and Reliability.

Established in 2002, Manufactured in Manitoba Canada

Vortex combustion chamber operating temperatures 1700 – 2000oF

EZ Lite Ignition Door

Easy Sweep Cleaning system

DC powered ECM Induction Fan, great for off grid power saving applications.

15 Year Limited Warranty